Dual Citizenship often arises as a matter of law. Usually, it requires little or no action on the part of the person seeking dual citizenship. However, the fact is that the United States does not favor dual citizenship (Rogers v. Bellei, 401 U.S. 815 (1971)). Still, it is not prohibited by U.S. law. U.S. law does not require a dual national to elect one nationality over another. The law of the other country decides whether the U.S. oath of allegiance effectively expatriates the person from his native citizenship.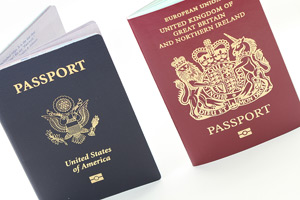 Most countries consider dual citizenship or multiple citizenship undesirable. Since a country has control only over who has its citizenship and not over who has any other countryís citizenship, they limit dual citizenship by denying their own citizenship to people in cases where they apply for another countryís citizenship.
Partial Citizenship: Many counties allow foreigners or former citizens to live and work indefinitely there. However, for voting, being voted and working for the public sector or the national security in a country, citizenship of the country concerned is always required. The Overseas Citizen of India is an example of partial citizenship.
Please read and follow the citizenship law of your country of origin to decide the issue of your eligibility for dual citizenship.
India and the Overseas Citizenship of India

The Constitution of India usually does not permit holding Indian citizenship and citizenship of a foreign country simultaneously.

The Government of India has now enacted laws to grant Overseas Citizenship of India (OCI), commonly known as "Dual Citizenship". Persons of Indian Origin of certain category who migrated from India and acquired citizenship of a foreign country, other than Pakistan and Bangladesh, are eligible for grant of OCI as long as their home country does not object to it under their respective laws.
The Indian Parliament passed a Bill on December 22, 2003 to grant overseas citizenship to people of Indian origin. The Bill received the President's assent on January 7, 2004. Dual Citizenship is not open to all people of Indian origin. It is only open to those from some specific countries that are on the approved list. It will only be granted on a case-by-case basis due to security concerns.

The countries covered for grant of Overseas Citizenship are the United States, Canada, United Kingdom , Australia, Cyprus, Finland, France, Greece, Ireland, Israel, Italy, Netherlands, New Zealand, Portugal, Sweden, and Switzerland.

The persons registered as OCI will neither have any voting rights nor be eligible for elections to Lok Sabha, Rajya Sabha, Legislative Assembly/Council or constitutional posts as President, Vice President, or Judge of Supreme Court or High Courts, etc.
Benefits of OCI
Lifelong visa to visit India ;
Such persons can stay in India for any length of time without reporting to police authorities;
Parity with NRIs in financial, economic and educational fields. However, no special benefits for acquisition of agricultural or plantation properties.
For more details, please visit Embassy of India, Washington, D.Cís website. You may also access the following links for useful information on OCI.
Overseas Citizen of India (OCI) - FAQs

What are the eligibility requirements for OCI?

A foreign national, who was eligible to become citizen of India on 01/26/1950 or was a citizen of India on or at any time after 01/26/1950 or belonged to a territory that became part of India after 08/15/1947 and his/her children and grandchildren, provided his/her country of citizenship allows dual citizenship in some form or other under the local laws, is eligible for registration as an Overseas Citizen of India (OCI). Minor children of such persons are also eligible for OCI. However, if the applicant had ever been a citizen of Pakistan or Bangladesh, he/she will not be eligible for OCI.

What are the benefits of OCI?

An OCI card holder gets the following benefits:
i. A multiple entry, multi-purpose life-long visa for visiting India.
ii. Exemption from registration with local police authority for any length of stay in India.
iii. Parity with Non-resident Indians (NRIs) in respect of economic, financial and educational fields, except in relation to acquisition of agricultural or plantation properties.
iv. OCI can be used as identity proof for application of PAN Card and driving license as well as for opening a bank account if the OCI card holder is residing in India.

What benefits an OCI Card holder is not entitled to?

The OCI Card holder is not entitled:
i. to vote,
ii. to be a member of a Legislative Assembly or of a Legislative Council or of the Parliament of India,
iii. to hold Indian constitutional posts such as that of the President, Vice President, Judge of the Supreme Court or High Court etc.
iv. He/she cannot normally hold employment in the Government

Under what conditions should one apply for New OCI Card and Sticker:

(i) In case of issuance of new passport.
(a) For an applicant who is 20 years of age or younger, OCI documents must be re-issued each time a new passport is issued.
(b) For an applicant who is 50 years of age or older, OCI documents must be re-issued once after the issuance of a new passport.
(c) For an applicant who is 21 to 49 years of age, there is no need to re-issue OCI documents each time a new passport is issued. However, if the applicant desires, he/she can request that the OCI documents be re-issued so that the OCI documents reflect the correct passport number.
(ii) In case there is a change in personal particulars.
(iii) In case of loss/damage of passport and/or OCI booklet.
(iv) For correcting personal particulars entered wrongly while submitting online applications e.g. name, father's name, date of birth etc.,
(v) In case of change of address/occupation.

Can foreign nationals, who are not otherwise eligible for OCI, get OCI if they are married to persons who are eligible for OCI?

No.

Are Minor children eligible for OCI Card?

Minor children are NOT eligible for OCI Card in case both parents are Indian nationals. However, they can apply for PIO Card.

Is an applicant who had held nationality of Pakistan or Bangladesh, eligible for OCI?

No, If the applicant has ever been a citizen of Pakistan or Bangladesh, he/she will not be eligible for OCI.

Can a person renounce OCI?

Yes. He/she has to declare their intention of renunciation in Form XXII to the Indian Mission/Post where OCI registration was granted. After receipt of the declaration, the Indian Mission/Post shall issue an acknowledgement in Form XXII A. A separate application form is available for this purpose.